UFC 215: Nunes vs. Shevchenko Main Event Preview
PHOTOS AVAILABLE FROM UFC® 215: NUNES vs. SHEVCHENKO WEIGH-INS BELOW
PHOTO CREDIT JEFF BOTTARI/ZUFFA LLC.
Edmonton, Canada – On Friday, September 8, the headlining stars of UFC® 215: Nunes vs. Shevchenko took to the stage in front of raucous fans at Rogers Place. All fighters made weight and champion Amanda Nunes and No. 1 contender Valentina Shevchenko look set to determine finally who will reign supreme above the women's bantamweight division.
UFC 215: Nunes vs. Shevchenko is UFC's first-ever event in Edmonton at Rogers Place and takes place on Saturday, September 9. Edmonton now becomes the 10th Canadian city to host a UFC card. UFC® 215: Nunes vs. Shevchenko marks the UFC's second Canadian event this year, following a successful return to Halifax in February.
Tickets for UFC® 215: NUNES vs. SHEVCHENKO are available and priced at $379.75, $253.16, $126.58, $94.94, $63.29, (plus additional fees). Tickets are available for purchase via Ticketmaster.ca and limited to eight (8) per person.
UFC® 215: NUNES vs. SHEVCHENKO will be available live on pay-per-view on Saturday, September 9 at 10 p.m. ET/7 p.m. PT on UFC.TV, iN DEMAND, DirecTV, DISH Network, Vubiquity, and in Canada on BellTV, Rogers, Shaw Communications, Sasktel, and Canal Indigo for a suggested retail price of $49.99 US/CAN for Standard Definition and $59.99 US/CAN for High-Definition.
UFC 215 lost its main event Thursday night when flyweight title challenger Ray Borg was forced out of the fight with a viral illness, delaying pound-for-pound king Demetrious Johnson's bid for a record-breaking 11th title defense.
Fortunately, the second title fight on the card between women's bantamweight champion Amanda Nunes and challenger Valentina Shevchenko is a compelling matchup in its own right, with both fighters' names worthy of being draped across the marquee.
In fact, some have hailed the bout as the biggest women's mixed martial arts fight in history.
"(This) is a fight between the two most skillful bantamweight fighters who have ever competed inside the Octagon in the women's division," UFC commentator Joe Rogan said.
ORDER UFC 215: NUNES VS. SHEVCHENKO 2 RIGHT NOW
Nunes has been a ferocious champion. Her annihilation of longtime champion Ronda Rousey was quick and ruthless as "The Lioness" delivered bomb after bomb until Rousey couldn't take anymore. But the champion's momentum was stymied in July when she was forced to pull out of the originally scheduled rematch with Shevchenko at UFC 213 with a case of sinusitis.
"I did the right decision," Nunes said about her choice to not fight after two months of ridicule, mainly from Shevchenko. "I'm the best on the planet right now and I'm a target for a lot of people."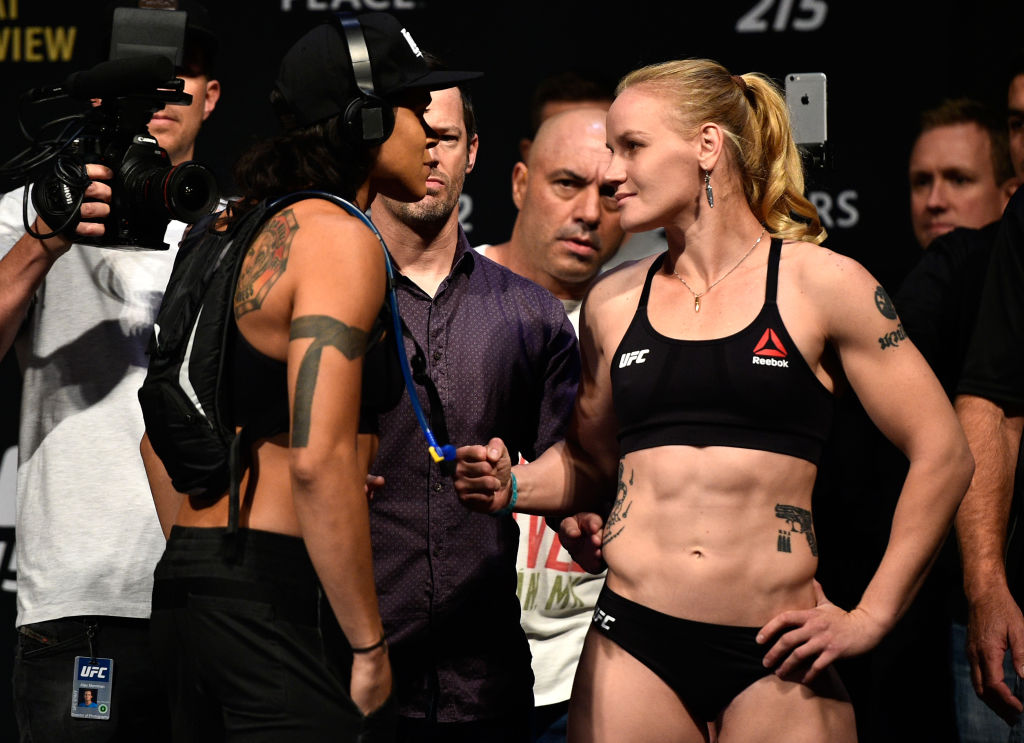 Nunes explained that her decision to not fight was based solely on not being 100 percent. With her belt and legacy on the line in the most high-stakes fight of her life, the Brazilian felt she had too much to lose. Now the fight is here and she's ready to begin her redemption story for the fans who were disappointed she couldn't fight last time.
"I think every time I step in there, eventually people are going to remember everything that I did," Nunes said. "We're going to make a show for you guys. Saturday night everyone is going to forget what happened."
Shevchenko hasn't forgotten what happened nor has she forgiven. "Bullet" was harsh in her reaction to Nunes' decision, explaining that a champion must fight through everything to perform and compete.
With wins over Holly Holm and Julianna Pena in her last two fights, Shevchenko has emerged as the most dangerous threat to Nunes' championship reign. The Kyrgyzstan native lost by decision versus Nunes when the two fought in March 2016. As expected, Nunes started strong and controlled the fight for the first 10 minutes, securing a unanimous decision win to springboard herself to a title shot.
RELATED: Nunes' destruvtive finishes make fight with Shevchenko can't-miss | Valentina promises everything she has at UFC 215
Yet in the final round of their first fight, Shevchenko started to turn the momentum in her favor, landing shots and even a takedown against Nunes. With an extra two rounds in a championship fight at UFC 215, Shevchenko may have a better chance to beat Nunes, who has been criticized for her perceived penchant to fade later in fights.
"It doesn't matter for me about her cardio because I'm not thinking about winning this fight because of her cardio. No, I will win this fight because of everything," Shevchenko said. "I was preparing for this fight very hard. I had very great training in my preparation for this fight. She can be confident until now but when the door closes in the Octagon it will be totally different."
Nunes made the championship weight of 135 pounds with a smile on her face Friday ahead of the championship fight that can redeem her reputation and bolster her resume. With wins over Rousey and Miesha Tate already behind her, Nunes can become the greatest women's bantamweight of all-time with a few more title defenses. She's confident she'll beat Shevchenko because the way she sees it, wherever the fight goes, she'll be better.
"The most important thing is getting this victory and keeping my belt," Nunes said. "I think with Valentina, the other opponents fall into Valentina's game plan. If you make Valentina fight in your game plan, that's the big thing. You have to be smarter than her and I am. And she knows that I am. She knows I will beat her. I'm better than her everywhere and I will prove that Saturday.
"Eventually everything is going to change. I was, a couple years ago, nothing. Now I've become champion. Everything is coming in the right time and in the right moment."
Article by: Parrino is a digital producer and writer for UFC.com. Follow him on Twitter at @MattParrinoUFC
Sorry - Comments are closed
Want the latest Combat Sports News?